Kittens have it rough when they're born outside. And it's often a wonder that so many kittens grow to adulthood with everything they contend with in the wild. There's illness, injury, cruel people, and predators. And little Eddie lost three of his tiny kitten siblings to one of those hungry, hunting feline enemies.
This poor guy and his littermates were born to a friendly mom who got thrown out of her Michigan home for getting pregnant. Fortunately for him and his remaining brother and sister, Faerie Tales Cat Rescue got to them before an attack could come again.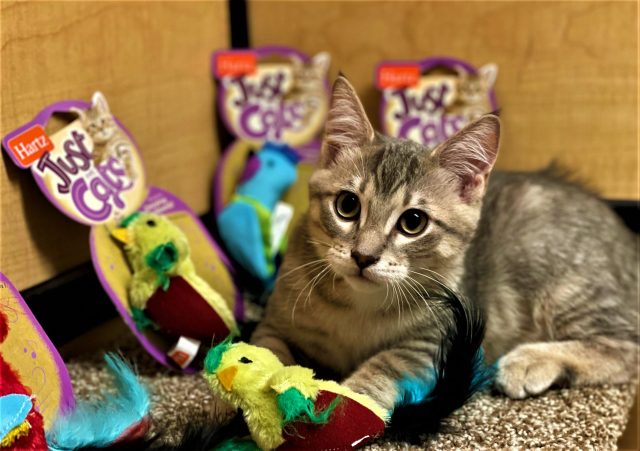 Eddie, Finn, and Gemma got the chance to be silly kittens who only have to worry over which toy to play with and how much food they can fit in their belly, thanks to you. Shopping with iHeartCats means more than getting cute and quality merchandise. Buying that shopping cart full of goodies gives compassion, too! Eddie and so many kittens and cats like him appreciate your fabulous taste and drive to do good.
Feline Good with Yummy Donations
When you shop with iHeartCats, you're empowering our partnership with Greater Good Charities because every purchase funds meals and other necessities for cats in need. The GOODS Program, a pet food distribution initiative in the Greater Good Charities family, has been keeping hungry bellies full for over a decade. To date, the GOODS program has delivered over 578 million meals to shelters and rescues across the country. That's more than 6,000 truckloads delivered to hungry animals!
These food donations help kittens like Eddie and his siblings grow strong and healthy for their forever homes. Toy donations from the GOODS program also offer the kittens a good time and the all-important mental stimulation every feline needs.
"Eddie was so happy with the tweeting bird toys from Hartz. We gave one chirpy bird toy to each group of kittens in each run of habitats, and it was hilarious to hear chirping through the entire store as ALL the kittens enjoyed their new toy introduction," shared Faerie Tales Cat Rescue. "Eddie gained so much attention playing with his toy that he received an application for him and his brother Finn, and they went to their forever home together this weekend."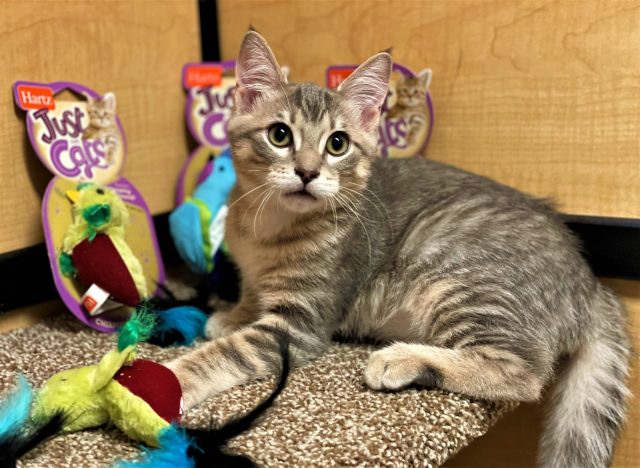 The kitties and the cat lovers of Faerie Tales appreciate every donation that arrives at their doorstep. These little things make big differences!
"The GOODS program has helped us provide food for physical health and now toys for emotional health of our cats/kittens, allowing us to focus our resources on vetting and adoptions. Thank you, Hartz, 4 Paws Animal Rescue Ambassadorship, Greater Goods Charities. #Amplify the Good. #hartz"
So, come on, you feline fancier, get to shopping and help us fund toys and food for every kitty in need of love and rescue!
The following products provide quality food for shelters and rescues, helping them reserve more of their precious funds for medical expenses, supplies, and spreading the word about their adoptable pups and kitties.